Morena FM is a live station from Brazil
Morena FM is a radio station from Itabuna, Brazil, founded in 1987, that broadcasts live 24/7 since 1996. It was the first in Latin America to use only digital music (1991) and commercials (1994). Morena translates as "brunnette".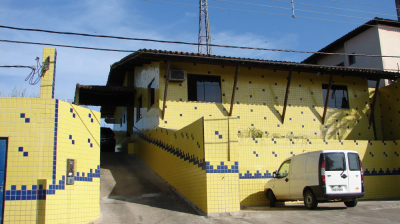 When Morena FM went live for the first time, it started a revolution in Bahia's radio programming. It plays musical genres that have never played in other radio stations in our region, like salsa, blues, jazz, rock, world music, classical. Of course It also plays pop and the brazilian's MPB, axé and forró. See our
schedule
here.
We think a radio station must be musically educative instead of playing only what the majority wants. We try to show musical genres that people would otherwise never know.
They're not "profitable" enough or "popular" enough for the other stations. But we think they're as important as any pop hit.
Morena FM also embraced new artists, playing singers and bands not only from our region, but from all over the world. We give them the same exposure the big names get from us.
From Dissidenten (Germany) and Lost Vegas (USA) to Abel Duere (Angola), Fabiano Carillo (Brazil) and Andrea Montezuma (Brazil), every good artist can get airtime at Morena FM. The only thing we ask for is quality.
Culture
Since 1993 we promote the Jupara Project, an iniciative that helps regional artists with promotion, airtime and support.
The project resulted in six albuns from Jupara Records, featuring great artists from the South of Bahia state, Brazil. Today these albuns play at stations in lots of other brazilian cities, Europe and Asia.
You can listen to some them in our
Soundcloud
page or see a video at our
Home
page.
Apart from great music, Morena FM features a strong and independent news program, Jornal das Sete, a talk show (Mesa Pra 2), and programs about college life (Papo Universitario) and medicine (Médico da Família).
See all our
radio shows
here.
This is Morena FM, radio with an attitude.
Marcel Leal, president.